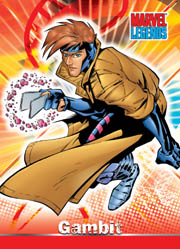 You are Gambit! You are a fierce fighter and a good friend to have. Your preference for solitude and your attractiveness make you very intriguing to those you meet. Unfortunately, close relationships are few and far between for you because you often have trouble opening up to others.
On this page, you'd think that I'd type a bunch of crap to make me look like a great guy... wouldn't ya? well that's not really the case.
Ok... I'm about 6ft tall, brown hair that just comes to the top of my shoulders, i supposivly have a good body and a good personality,I'm nice, generous, and I like to ask questions and I love to make people laugh (even if it means hurting myself)If you want to know more about me, look around on the site, or ask me yourself!
I can also be really depressing/depressed sometimes, but when I'm like that, everyone should just ignore me...